Upper Snake River Trappers of Idaho, Inc.
News Room
---
PAST/CURRENT/FUTURE EVENTS
---
John Paul Smith(1926 - 2018)
John Paul
Smith
, 91, long-time resident of Rexburg, Idaho, passed peacefully from this world to the next in the early morning hours of Sunday, March 11, 2018, surrounded and uplifted by the love of his family many of whom were with him.
John was born to John Wheten and Thelma Ann (Stewart) Smith on August 17, 1926, in Moreland, Idaho. His older sister, Dea Bernetta Smith, was delighted to welcome her baby brother. Brother Frank Allen Smith rounded out their family. John's father worked the Idaho Department of Fish and Game and his job required the family to move from time to time through Idaho.
When John was 18, he joined the
US Marine Corps
and was assigned to the First Marine Division and fought with the First Tank Battalion. As a tank commander, he fought during the entire Battle of Okinawa from March through June 1945. Unbeknownst to him during the battle, his brother Frank was also on the island but with the Sixth Marines. After the fighting on the island ended, Frank was able to find and visit John before the First Marines were reassigned to the occupational forces in China.
Upon returning to civilian life after the war, he married his sweetheart, Mabel Dora Anna Enfield, on March 20, 1947 in Los Angeles, California. They returned to Idaho where John went to work for the Idaho Department of Fish and Game as a predator trapper. Their first two children, Jonnie Jo and Jack Wheten had joined the family when John was recalled to active duty during the
Korean Conflict
. He served as a tank instructor at Oceanside, California from 1950-1951. The family then returned to Idaho and he resumed working for the Department of Fish and Game, now as a conservation officer. He was stationed in northern Idaho where four more children were added to their family, Kris Lee, Mark Curtis, Bart Lynn and Frankie Sue.
In 1963, John was reassigned to southeast Idaho where the family made their home in Rexburg. He retired from Fish and Game in 1980 after 32 years with the department.
John enjoyed many hobbies during his life including raising tropical fish, rabbits and beautiful flowers in his yard, but his greatest joys were working with the youth. He is remembered by many as their Hunters Education teacher, diligently teaching foremost how to be safe and responsible in the handling of their firearms. He also refereed countless high school football, basketball and baseball games and is remembered as being diligent and scrupulously fair in his calls.
His civic activities include serving as secretary to the Rexburg Lions Club and president of the Idaho Trappers Association. He was also a charter member of the Upper Snake River Trappers Association.
He worked tirelessly to promote the balance between conservation and harvest of the natural resources of the state of Idaho. He will long be remembered for the guiding credo of his life: Citizens responsibilities are first to uphold and follow the law but also to work to change laws they disagree with.
John is survived by his wife, Mabel, of nearly 71 years and their six children, Jonnie Jo and her husband Theron of Arco; Jack and his wife Patricia of Chugiak, Alaska; Kris and his wife Rosalyn of Pocatello; Mark and his wife Terri of Richland, Washington; Bart and his wife Barbara, and Frankie Sue (Susie) Sutton of Archer, Idaho. He also leaves 19 grandchildren, over 40 great-grandchildren and nearly 20 great-great-grandchildren.
He was preceded in death by his parents and siblings, as well as his son-in-law Bret Sutton.
Funeral services will be held 11:00 a.m. Saturday, March 17th at Flamm Funeral Home. The family will visit with friends Saturday morning from 10:00 to 10:45 a.m. at the funeral home prior to services. Interment will be in the Sutton Cemetery with military rites. In lieu of flowers please make donations to the Idaho Food Bank. Condolences may be sent online to
www.flammfh.com.
February 23, 2018
Attention Members of the Upper Snake River Trappers Association:
The Rupert Fur Sale sponsored by the Upper Snake River Trappers Association will be held the 23rd and 24th of March 2018, at the Rupert Civic Center,624 F St., Rupert, ID. Fur consignments must be called in or texted no later than the 18th of March to either John Contor(Fur Sale Director), 208-317-6762, 317-6761 or Todd Smith(Chairman) 208-351-0299. Fur consignments will be accepted at the Rupert Civic Center on the evening of March 23rd, 2018 from 7:00 to 10:00pm and again the morning of March 24th, 2018 from 7:00 to 10:00 am. Note: These times are strictly observed. The Fur Sale will start at 10:01 on the morning of March 24th, 2018.
Important Note: #1- Cats brought to the fur sale will be handled in separate lots from the other fur. Ask the people checking in your fur about this.
Important Note: #2- If your membership is not up to date, please take care of this at the time you are checking in your fur. The membership table will be located at the main door.
There will be food, coffee, snacks, and drinks served at the Fur Sale.
Members: Bring a trapping related item or something else to be donated for the auction that will be held sometime during the sale. Also, there will be a general meeting planned on that day.
We need help at the Fur Sale. If you can volunteer, please call either John or Todd!
We hope to see everyone with lots of fur at the sale.
Kim Smith, Secretary
trapperswife86@gmail.com
208-206-1570
2018 Fur Sale Dates
Blackfoot Fur Sale: January 26-27
Rupert Fur Sale: March 23-24
We look forward to seeing everyone at our Fur Sales. Check back for more information later on in December. Good Luck and Happy Trapping!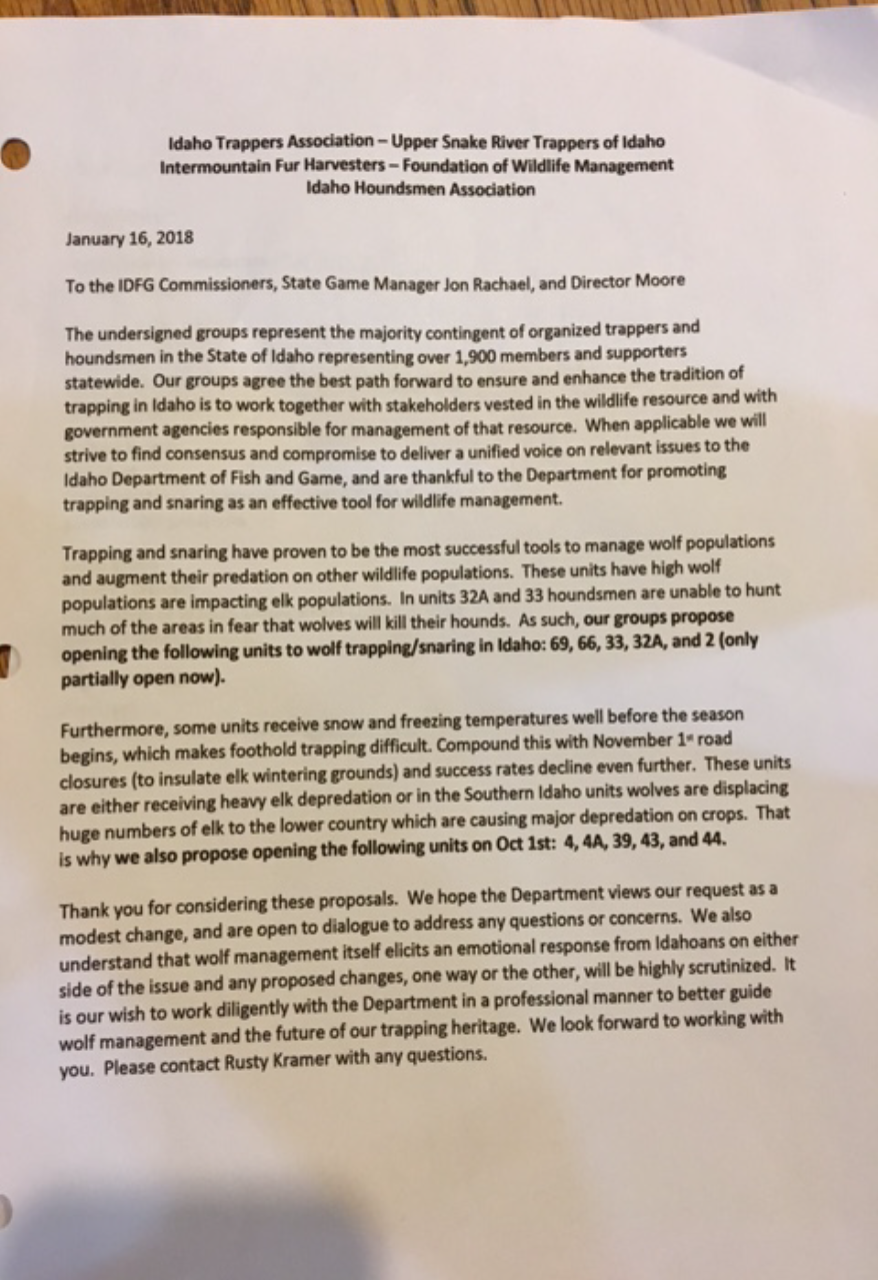 .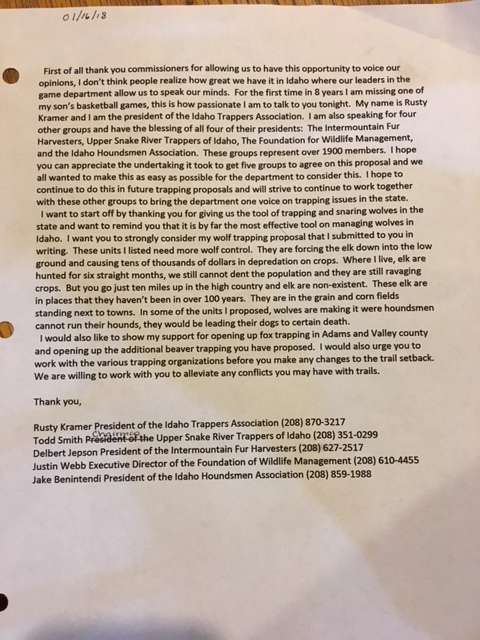 Eastern Idaho Fair Gun Winner 2015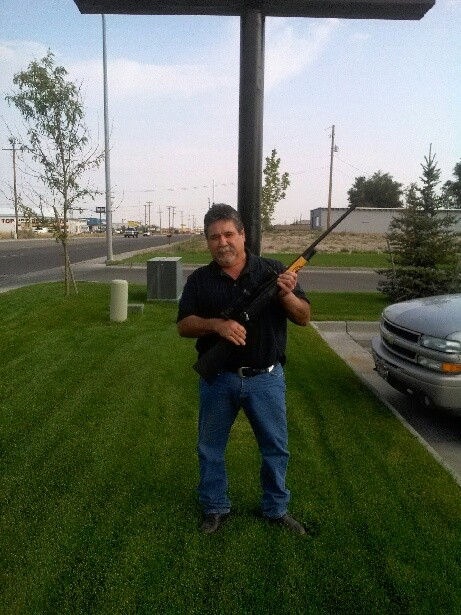 Eastern Idaho Fair Gun Winner 2014